Joshua Clottey is part of the 'City of Bukom' boxing documentary
Ghanaian-British filmmaker Scilla Owusu built her reputation making music videos for the likes of Sarkodie, Mr Eazi, Davido, and Burna Boy. Now she turns her hand to a documentary about a little fishing community in Accra that's gifted the world boxing champions from Azumah Nelson to Joshua Clottey.
Before she was producing and directing videos for some of the biggest music names in Africa, Scilla Owusu was a screenwriter and producer on the award-winning web series A Lesson Learnt. She was just 18 when she began picking up the skills she'd need to start her career in filmmaking.
The 24-year old director has stepped up her game with her debut documentary – City of Bukom – a 75-minute in-depth look at the fishing community in Accra, Ghana where world boxing champions including Azumah Nelson, Ike Quartey, Isaac Dogboe, and Joshua Clottey are all from.
Executive produced and directed by Owusu, it features interviews with former world boxing champions, trainers, promoters, and administrators who offer insights into what makes the community the capital of the West African country's boxing industry.

The 2020 Forbes Africa 30 Under 30 honouree is also the founder of Yountrepreneurs, a social youth impact organization powering workshops that helps African creatives score job opportunities and improve on their knowledge and experience.
OkayAfrica talked to Owusu about interviewing boxing greats for the documentary, which can be seen on YouTube, what she learned on the journey, and changing narratives with her work.
Interview has been edited for clarity and length.
You've said you got the inspiration to work on the documentary from the photo of a young boxer you saw during the "This Is Ghana" photography exhibition by Danny Wonders. What fueled that decision?
My background has always been rooted in screenwriting and filmmaking but for a few years, I had immersed myself in music video production and directing. The intention started in 2019 when I decided I wanted to get back into film production properly and the genre I was going to start with would be action. However, it wasn't until January 2020, when I attended the exhibition that the actual idea of boxing came to mind. I was so mesmerized by how the photographer [Danny Wonders] captures Ghana through his lens and uses his photography to educate us on the culture. There was a photograph in particular, which caught my eye, of a young boy wearing boxing gloves. As I looked at this photo, I found myself wondering who he was, where he got the gloves from and why he had them. So I began to ask questions.
I believe this photo, in particular, caught my attention because growing up in London, usually, I see most young boys start boxing when they are teenagers. But, this boxer looked very young and fierce. He looked about five or six years old, so I asked my brother [Danny Wonders] about the story behind the photograph, where it was taken and so on, and he told me he photographed it in an area called Jamestown, near Bukom.
This photo was the catalyst. I began researching the boxing industry in Ghana and was amazed to find the history the country had. I was equally amazed as to why it wasn't something commonly spoken about or embraced in a non-documentary form by fellow Ghanaians. So, during the four-month lockdown in London, this picture encouraged me to put pen to paper and write City Of Bukom which would eventually birth my debut documentary.


Why did you decide to source funds through Kickstarter to support the documentary instead of asking a corporate body or applying for a grant?
There are a few reasons. Firstly, even though I have experience in shooting visual content such as web series, music videos and producing short films, I knew that I have never written and directed a film before. So, asking a corporate body to give me money [£25,000 GBP] to execute something they haven't already seen me execute would probably end up in a lot of rejections or delays. Even though it probably could have been possible, I knew I would still need a significant body of work in short films to persuade that decision, especially amongst hundreds or thousands of people applying for grants who likely have more experience than me. However, I knew that if I tried to raise money through an audience of people who either knew me or have been following my journey they would better understand my mission and support me, which they did.
Secondly, I had seen a lot of successful Kickstarter projects from independent filmmakers. A great example would be the project House Girl by my friend and acclaimed film director Koby Adom in 2017. Even though it is sometimes nerve-racking because you have thirty days to raise a certain amount of money and you are uncertain that you are going to raise the money on time, I just knew that regardless of the outcome, I am promoting and building awareness of a project to a bigger audience so it's a win-win situation.
Did the response to the Kickstarter campaign affirm the decision?
Absolutely, because a lot of people supported our Kickstarter. People from my college, people I had worked with on set, family members and associates from my crew attached to the project. It was just interesting to see that when you decide to do something meaningful, a lot of people get behind you regardless of whether or not you don't think people are seeing what you are trying to promote.
It also helped to build a lot of awareness in two ways the first being, individuals approaching us and donating boxing equipment and resources. We acquired a treadmill, boxing uniform, sparring gloves, water bottles, skipping ropes, a punching bag, hand wraps, mouth guards, bags of rice, cooking oil, tinned food, punching gloves, skipping ropes and so on that we donated to Akokotu Boxing Academy, the gym we collaborated with. Most of the donations came from Ghanaian-Canadian musician KFT, also known as Kwasi Ofosu, others, through some of our Kickstarter contributors.
Secondly, while trying to spread awareness for the Kickstarter, we began interviewing boxers from Bukom, starting with former IBF welterweight champion, Joshua Clottey. After a thirty-minute interview, It dawned on me that the footage can be used for a documentary, an additional project to the short film, especially because at the time Clottey's most recent interview was two years ago announcing his retirement. Without the Kickstarter campaign, that wouldn't be possible.
Is there something you learned through interviewing people for the documentary that you didn't know before?
As a director, I usually stay behind the scenes ,more so behind the camera, whereas this time I'm face to face, asking the questions directly. So, something I learned that I didn't emphasize during my pre-production was the importance of asking open-ended questions, analyzing the [interviewee's] body language to know what they feel comfortable and uncomfortable answering. To get the best answers and portray them in a positive light. I just assumed people would naturally want to talk, but there's a technique to it. So, once I realized this in the early stages of interviewing, I took a step back and did my own research on how to conduct a professional interview, and applied what I learnt to my future interview questions.
In addition to this, learning to have an open mind and be patient. Some of the individuals we interviewed only spoke and understood Ga. This is the native language a lot of residents from Jamestown/Bukom speak — a language I am unfamiliar with. So we had to work with an interpreter, Gabriel, who is a manager at Akotoku Boxing Academy.
Moreover, I also learned that you have to be mindful of how you speak to your elders, something you might think is a joke might not be so funny to them. Everyone absorbs information differently and has a different sense of humor to you — especially when you are interviewing people who are twice your age. I made a joke that almost cost me an entire interview, can you imagine!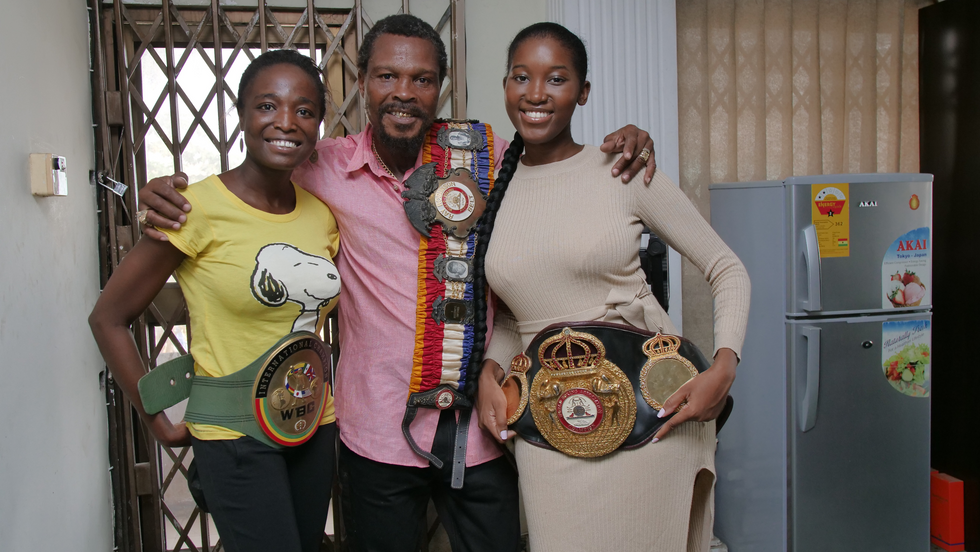 Scilla Owusu (right) and sound operator Ida Boatemaa Bamfo (left) with Ike Quartey, while filming the documentaryPhoto: Scilla Owusu
Do you want to share the experience?
There was a boxing enthusiast that was recommended to me for the documentary to interview him. We jumped on a phone call to get properly acquainted so he can understand the project in more detail and so on. We were laughing at each other's jokes on the phone and I said to him "Wabaso' [A Twi word which could either mean 'you think you are above everyone/everything' or 'you are doing well for yourself'] In the context of the conversation, it was evident that I meant it as a compliment based on what we were talking about. He took offense and explained why.
I apologized because I didn't mean to cause any offense to him, and when he finally agreed to let me interview him, he gave me another lecture about what was wrong with what I said but it was good because I had to go through that to realize the importance of being over-familiar with people you don't know that well. Furthermore, just installing a higher barrier of respect when it comes to work and maintaining a certain level of professionalism at all times, even after the job is complete.
Can you talk about your experiences meeting and talking to Azumah Nelson, Ike Quartey and all the boxing greats you interviewed for this documentary?
Interviewing renowned boxers such as Ike Quartey and Azumah Nelson was an astounding moment for me. I interviewed Ike first after two months of pleading with everyone he knew to ask him if he would grant me an interview. Funnily enough, his actual son DM'd me on Instagram and said he can introduce me personally to his dad when he came across the Kickstarter but I thought it was a fake account and ignored it. Only to realize months later, it wasn't. Can you imagine, I almost blocked my blessings, haha! Ike in general wanted to stay away from interviews because he had expressed that the media can misinterpret his words so I had to find a way to stand out. A month later in February, Joshua Clottey called me to say that he had spoken to Ike Quartey and Ike had agreed to grant me an interview.
My crew and I met him at his office building in Kaneshie. We were about an hour late! I had never heard of the area before and underestimated the intense level of traffic. I was so nervous that we might lose the interview because Ike kept calling me asking where we were. Finally, shortly after we arrived we met him and interviewed him. He was so lovely. He shared some personal stories off-camera and I'm really grateful that he made time for us. Very humble, genuine and charismatic. We even had an arm wrestle — obviously, I won, or maybe he let me!
Landing an interview with Azumah Nelson was probably the most difficult part of the entire documentary. To the point where I gave up, countless times. Everyone around me was reassuring me to keep pushing but it was so difficult. For reasons unknown, his manager wasn't being direct to grant me an interview. I was tempted to even go to Azumah's church and share a testimony just to get his attention. For the next six months, Akotoku Boxing Academy, Joseph Agbeko, Joshua Clottey & Ambassador Ray Quarcoo actively tried to help find connections with people affiliated with Azumah but nothing happened. In August upon my return to Ghana, Isaac Dogboe, former WBO junior featherweight champion, introduced me to Azumah Nelson's best friend, Mr Alhaji Inusah Sally who offered a helping hand and brought Azumah to his office the following week. Interviewing Azumah Nelson was an amazing experience, he is so humble, polite and gave me some words of wisdom and encouragement. It's very easy to understand why he's loved by the world.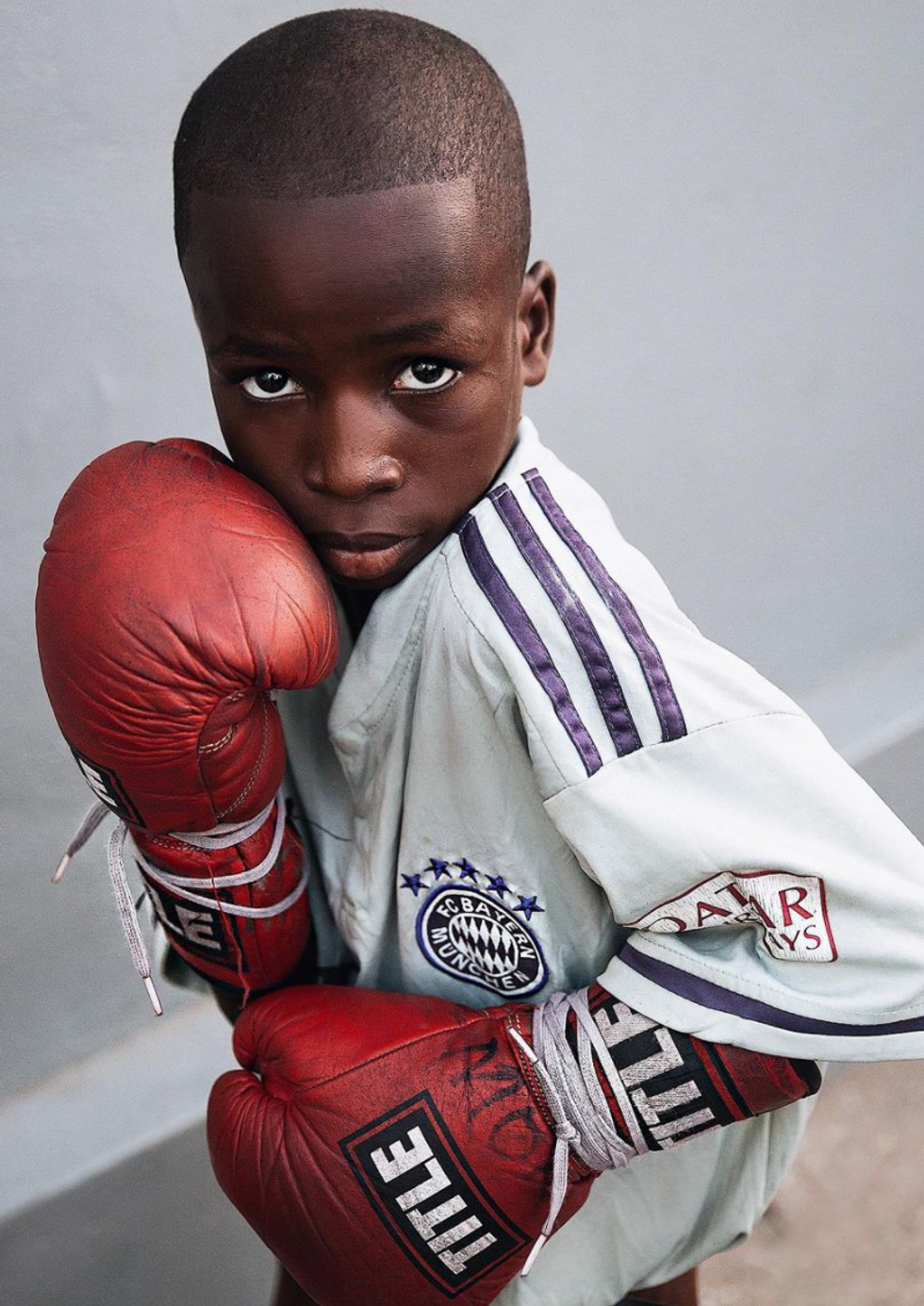 The photo taken by Danny Wonders that inspired the 'City of Bukom' documentary Photo: Danny Wonders
What do you hope people would take away after watching this documentary?
What I hope people will take away from this is to take risks, tell stories that are important and can enrich the new generation and invest in yourself. I used my own money to pay for the documentary. I didn't gain any money from the Kickstarter campaign because we didn't reach our target. I took a risk by telling a story from a background I wasn't initially familiar with. I spent more than 12 months in total researching. Watching fights, reading articles, books from the 1950s till the present. It was worth it though. I had to bet on myself for others [my team & the Kickstarter supporters] to believe in me.
Lastly, in terms of the documentary itself, I hope people learn a lot about Ghana boxing history post-colonialism. My wish is that the documentary also reaches the right audience to help attract the right individuals to support communities like Bukom and champion the rising boxers.
What does it mean to you to tell stories about Ghana through films and music videos?
It means a lot. For this specific project, to have Ghanaian creatives including Kwame Black, Riad Sabeh, Anthony Osafo, Aglow Visuals [cinematographers], Stephen Kwaku Odikro Jr [drone operator] and Ida Boatemaa Bamfo, [sound operator] come together to create an authentic Ghanaian story for Ghanaians was amazing. Everyone was very committed to the project and adopted a winning attitude from inception to completion. Obviously, this isn't the first story about Bukom. In the past, we've had big media corporations such as BBC, VICE, and Al Jazeera document Bukom how they see it but it's nice for Ghanaians to hold the pen to write their own stories through their eyes.
I really hope people take their time to watch this documentary and enjoy it. About seven months of hard work went into it by shooting. Not just from my end but my amazing camera and sound team, Akotoku Boxing Academy, the boxers and even the post-production. I edited the entire documentary myself, all while with a fractured shoulder, and even going through the trouble of losing my footage, retrieving it and re-editing everything all over again. It was something I was so passionate about and knew regardless of the setbacks I can't make excuses. In the end, we prevailed. I've learned so much throughout this entire process. Most importantly, to take action now and not to sit around and wait for someone to take a chance on you. Bet on yourself. An investment in yourself pays the best interest.