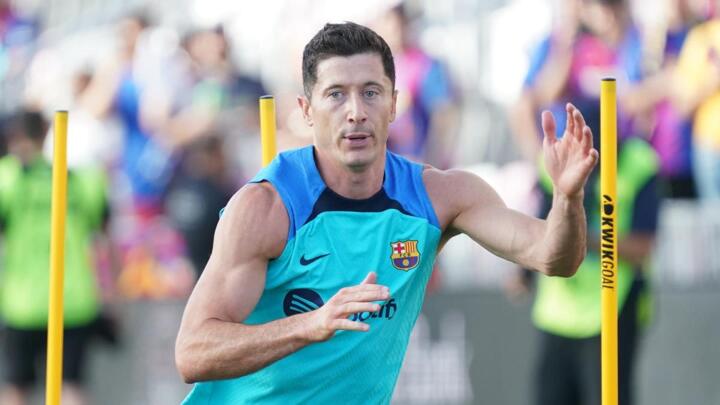 Cristiano Ronaldo's presentation in front of 75,000 Real Madrid fans is expected to remain the largest in football history.
But Lewandowski could overtake Ibrahimovic as the largest in Barcelona's history, with a record of 60,000 fans to beat.
Neymar (55,000) came close to doing so in 2013, while Cesc Fabregas and David Villa's signings both saw 35,000 fans attend their presentations, according to Barca Universal.
Lewandowski is now expected to break the record that has stood since 2009, having signed from Bayern Munich.
The Poland international spent eight years at the Bavarian club, scoring 344 goals in 375 games, and has been brought to Camp Nou to catch up to rivals Real Madrid.
A signing of such magnitude would draw an impressive crowd to the presentation under any circumstances, but there are added reasons as to why more than 60,000 fans are expected to turn up.
Firstly, due to renovation work that's been going on at Camp Nou, Barcelona's other signings have been unveiled at the training ground; Lewandowski's is the only one to take place at the stadium.
Second, Barcelona have been in the USA as part of their preseason, so fans will welcome the club's return to Spain.
Add to that, tickets to the event are free – while they are usually overpriced; members of the club have been given six tickets each.
How much did Barcelona pay for Lewandowski?
Although Barcelona have gone on the record to state that the deal is worth a total of €50m, El Pais reported that the true value of the deal is actually €10m more than that and reaches €60m.
The report says that Barcelona agreed to pay €60m, providing Bayern confirmed that the fee was €50m.
This was done because the Blaugrana were worried about the reaction in the media to Barca paying such a huge sum of money for a player who turns 34 this summer.
The real breakdown of the transfer fee is that Barcelona will pay €45m upfront in one lump sum and then another €5m providing they qualify for the Champions League.
The extra €10m will then be paid to Bayern providing Lewandowski remains at Barcelona for the whole of the 2022-23 season.
El Pais further reports that Bayern celebrated the sale of Lewandowski, believing they made an incredible deal getting so much money from Barcelona for the veteran.
Barca are also reported to be the only team who made a concrete offer for Lewandowski this summer.
Lewandowski's contract at Bayern was due to expire in 2023, and he was keen to move to Camp Nou for one final challenge at a big club before the end of his career.
He was very vocal about this and made a number of public statements about his career at Bayern being over. This did not go down well with his former club.
Get Unlimited Music-Fire DM Album Release on grinomusic
The Review
Lewandowski Vs Ibrahimovic