MARTIN SAMUEL: The King is back, Ronaldo's return to Man Utd is a gamechanger
Shortly after Cristiano Ronaldo left Manchester United, the club lost the title to Manchester City, on goal difference.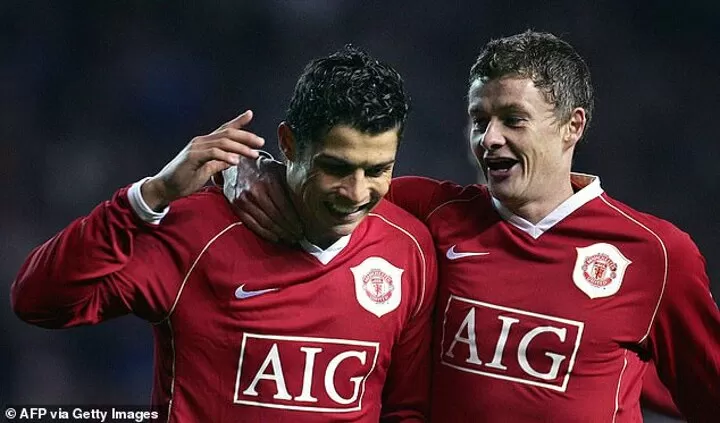 It is fair to say that won't be happening this season. No team with Ronaldo in it goes down on goal difference. They don't always win the League — Juventus didn't last season — but they don't fall short due to lack of firepower. Ronaldo sees to that.
Where does he fit in at Manchester United? Who knows right now, and who cares? Maybe not even Ole Gunnar Solskjaer just yet.
This deal has escalated extraordinarily quickly and solves a problem United probably didn't even know they had when the week began. If Ronaldo hadn't been about to sign for their rivals on the other side of Manchester, who can say whether United would have burst into action as they did.
They didn't try to compete with Paris Saint-Germain for Lionel Messi earlier this month. But someone knew what a bad look it would be for Ronaldo to return to Old Trafford in blue; and someone else sensed the potential in a player who, even in his twilight years in Italian football, still scored 101 goals in 134 games.
So Ronaldo is here and, in many ways, his role at Manchester United has echoes of an old Christmas cracker joke.
'Q: Where does a 250kg gorilla sit? A: Anywhere it flamin' wants to.'
Ronaldo, in this metaphor, is the 250kg gorilla. He plays where he feels he will be most effective — because where Ronaldo is happiest, that's where the goals come from.
He was a wide player who made himself a centre forward, who took to scoring more headers — he was always good for a few, have a look at an absolute beauty against Roma with Manchester United in the Champions League — and to poaching around the penalty area.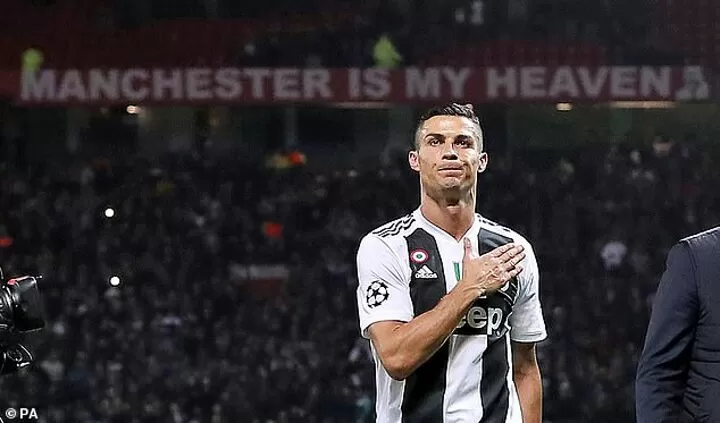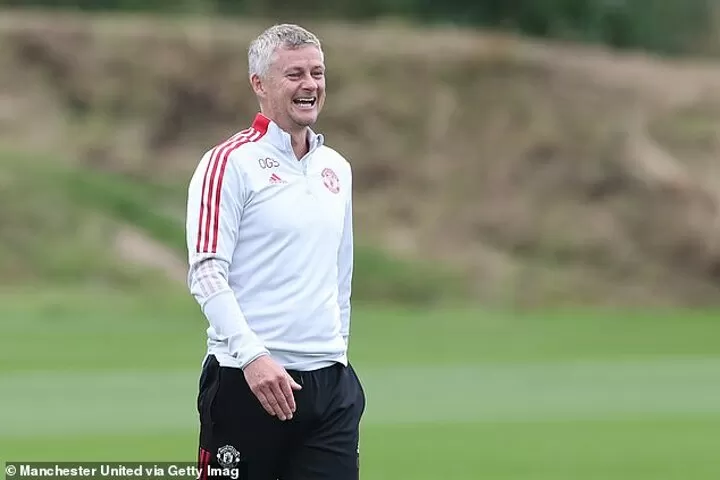 Solskjaer is an old team-mate, they were in the same Manchester United team for four years. He is not so arrogant, or so foolish, to fail to get Ronaldo on his side and operating in his best position. Even at 36, Ronaldo with a point to prove is an asset to any club.
And he will be returning to English football anxious to prove he can still be the Premier League's alpha male. Zlatan Ibhrahimovic arrived with the same attitude and had a huge impact. Ronaldo is better.
You've got to love him for it, really. The confidence, the self-belief, the bravery. Without wishing to take sides, Messi hasn't really gambled too much, leaving Barcelona for the one true super-club in France.
Paris Saint-Germain compete against some good teams, but they are all sellers, even at their peak. Lille won the title against all expectations last season and have spent the summer cashing in on that success. Monaco did the same.
To deliver the Champions League to Paris is a quest, but Messi is not exactly stretching himself in PSG's domestic programme. They have probably got this, with or without him.
The challenge for Ronaldo is very different. He is going to a club that last won the League in 2013; taking on the best Liverpool team of the Premier League era; the reigning European champions in Chelsea; the best Manchester City team since Sheikh Mansour transformed the club.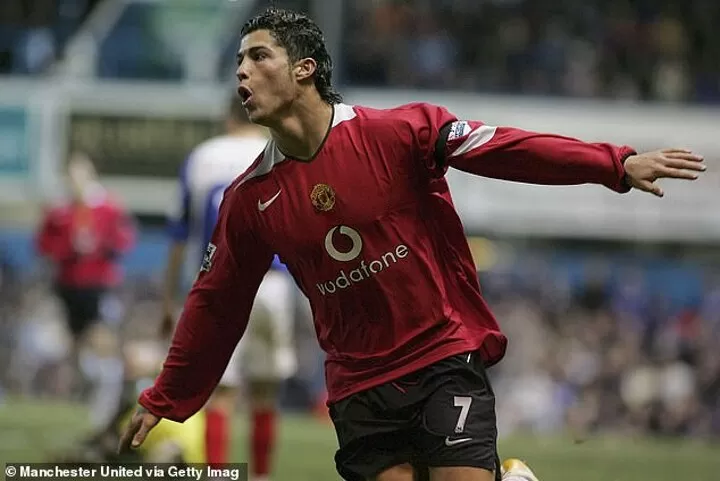 He is up against Harry Kane, Mohamed Salah and Romelu Lukaku as match-winners; he is attempting to elevate Solskjaer into the company of Pep Guardiola, Jurgen Klopp and Thomas Tuchel. All this falls on Ronaldo's shoulders.
Indeed, that's how he wants it. He wants it to be about him; he wants to be the difference. Some hate him for it but it is what makes him such a special, unique, player.
We have missed him, in the Premier League. Missed the 438 goals he scored in 450 games for Real Madrid in his absolute prime. Missed the way he defines matches, missed the way his presence elevates what is possible, or achievable. And it should.
What will the players already at Manchester United make of this unexpected addition? The sensible ones will revel in it. Anthony Martial may be pushed further down the pecking order, or sold, but it cannot be argued he hasn't had his chance.
Edinson Cavani can surely not resent the arrival of another world-class, super-fit and experienced forward to share the load. Bruno Fernandes and Paul Pogba now have the perfect finisher to complete their passes.
As for Mason Greenwood and Marcus Rashford, if they cannot learn from being on the same pitch, in the same gym, on the same training field, even at the same dining table as Ronaldo, maybe football is not for them.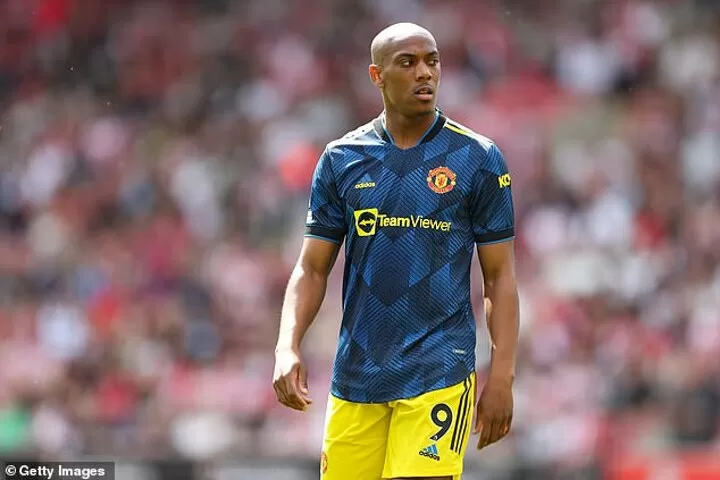 Patrice Evra tells a story of being invited to Ronaldo's for lunch. He was presented with grilled chicken breast and salad — and not much of either – plus water.
'Not even juice,' Evra complained. Meal completed, Ronaldo suggested going into the garden for some two-touch games. At which point, the penny dropped. It was an extra training session, not a social occasion.
No wonder Sir Alex Ferguson was instrumental in persuading Ronaldo to return. He saw first-hand the impact Eric Cantona's personality and professionalism had on a generation of young United players. Greenwood is 19. Where might he be if he takes in the influence of Ronaldo?
Away from football, United will see this as reasserting the club as the natural destination for marquee talent.
That has always been Ed Woodward's philosophy, that United should lead the way in recruiting the biggest names, and this deal is probably his last hurrah before leaving his role as chief executive. If it delivers the title, he will feel very much vindicated. Not least, because he will believe Ronaldo would have had a similar impact at Manchester City.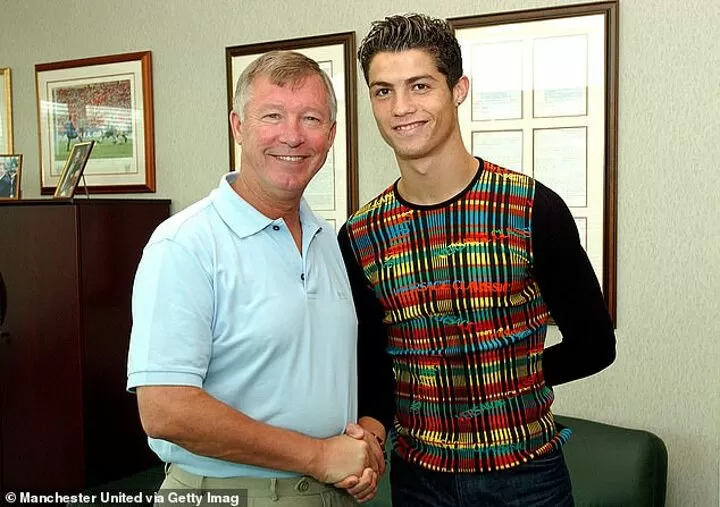 This is not the first time United have stolen a march on City in the market, of course, and other victories have not always aged well.
Roberto Mancini blamed the failure to secure Robin van Persie for the title returning to Old Trafford eight years ago, but since then United's recruitment drives have often backfired. City were in for Fred in 2018, but were outbid and outspent, and the same happened when Alexis Sanchez left Arsenal.
Some may feel Ronaldo is another bullet dodged; that United have bought a player at the wrong end of his career, with diva qualities and a waning impact.
His last three seasons at Real Madrid were worth 51, 42 and 44 goals, and his three at Juventus 28, 37 and 36.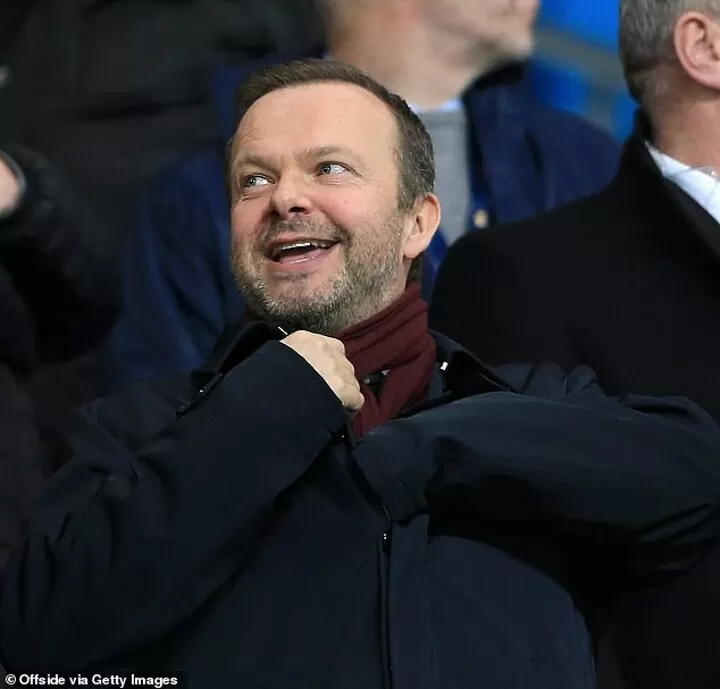 Yet City would have paid £120m for Kane, and his last three seasons at Tottenham came in at 24, 24 and 33. This is the toughest league. If Ronaldo delivers anything near his Italian numbers it would still make him the most prolific goalscorer in English football.
He will arrive fit — he's always fit — and ready to make his debut at home to Newcastle on September 11 after the international break. It is impossible not to be excited by this. It is impossible not to suspect this is a game-changing intervention by Manchester United, too.
It is a 250kg gorilla of a signing. With Ronaldo around, we're about to find out who the big beasts really are.
Source: allfootball apk
Mubarak Wakasu gives Ghana victory against Ethiopia
The Black Stars secured three points in the opening fixture of the FIFA World Cup Qatar 2022 qualifiers after beating Ethiopia 1-0 at the Cape Coast stadium on Friday night.
China based Mubarak Wakaso's first half strike gave Ghana all the spoils in the Group G encounter.
Ghana Coach Akonnor named Jeffrey Schlupp and Kamal Deen Suleymana in a line-up that also included Captain Andre Ayew, Crystal Palace ace Jordan Ayew, Leicester City's Daniel Amartey and Baba Abdul Rahman.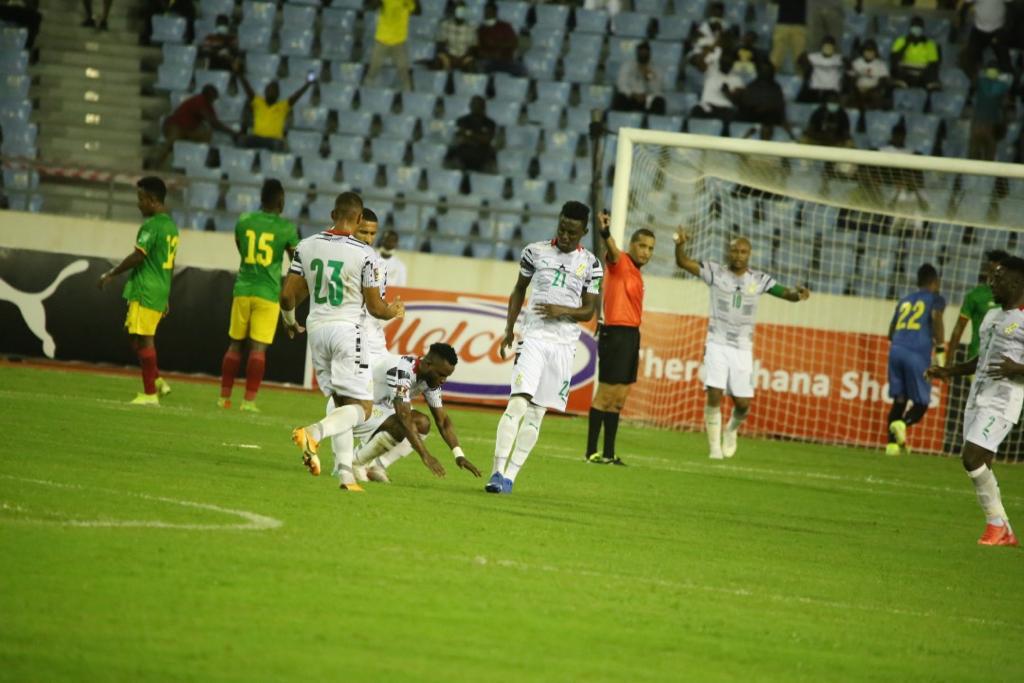 Germany-born Daniel-Kofi Kyereh was given a 28thminute debut following an injury to Jeffrey Schlupp due to an ankle injury.
Wakaso got the breakthrough for Ghana ten minutes from the break as his powerful shot from outside the box beat Ethiopia goalkeeper Teklemarian Shanko.
Shanko failed to save the strike as the ball passed through his legs to give Ghana a first half lead.
The goal was the highlight of the first half as the two teams headed back into the locker room with Ghana having a slim lead.
Back from recess, Ethiopia took control of the game but failed to create any scoring opportunity.
Second half substitute Yaw Yeboah pulled a great save from substitute goalkeeper Fasil Gebremichael in the 73rd minute following a long drive by Yaw Yeboah and a follow-up by skipper Andre Ayew.
The exchanges from both ends failed to yield results as the game came to an end with Ghana picking the three points.
Ghana's next action is in Johannesburg against South Africa on Monday at the FNB Stadium while Ethiopia hosts Zimbabwe in the other group encounter.
GFA COMMUNICATIONS
Ballon d'Or 2021 Power Rankings: Messi leads the list
The awarding of the prize was cancelled in 2020 and the world's best players are again making their cases to claim the coveted individual honour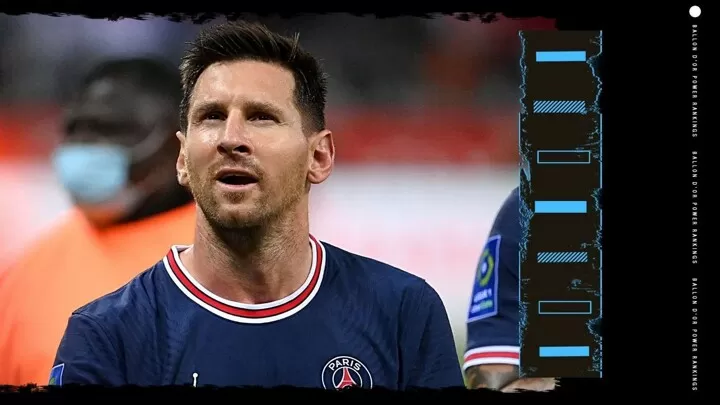 After being cancelled in 2020, the Ballon d'Or is back, with the great and good of the football world again eyeing the biggest individual honour the game has to offer.
The prize will not be handed out until December, meaning that players can still make their cases to succeed 2019 winner Lionel Messi over the coming months, despite most of the major club and international silverware having been won already.
#20 Phil Foden (Manchester City)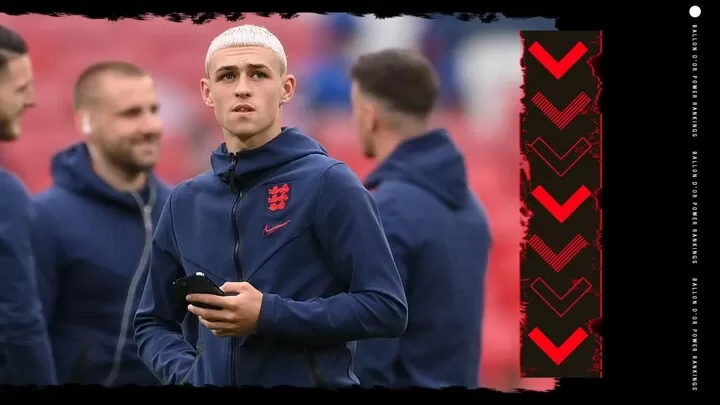 Last time: 19th
In 2021: 11 goals, seven assists. Won Premier League & Carabao Cup.
Foden is yet to get his season started as he continues his recovery from a foot injury that ruled him out of the latter stages of Euro 2020.
He could face a fight to get back into the Manchester City team too, with club-record signing Jack Grealish having made a strong start to life at the Etihad Stadium.
#19 Pedri (Barcelona)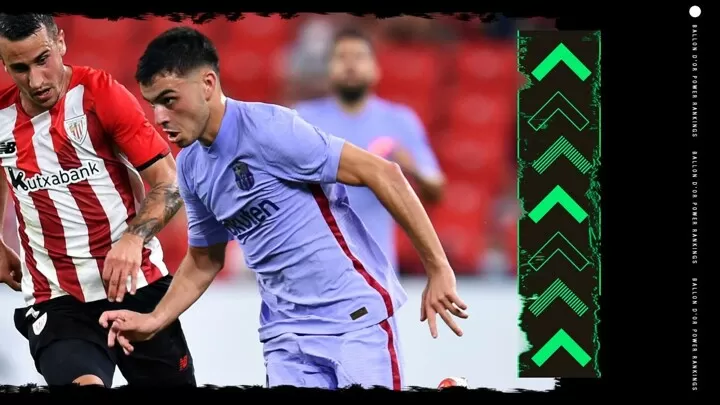 Last time: 20th
In 2021: Three goals, six assists. Won Copa del Rey & Olympic silver medal.
Pedri finally got a chance to rest over the past week after a year which has seen him play 76 matches for club and country, most of which the teenager has started.
Euro 2020's Young Player of the Tournament now has an Olympic medal to show for his achievements, though Barcelona will hope that the midfielder's exertions will not affect his performance level over the coming campaign.
#18 Ilkay Gundogan (Manchester City)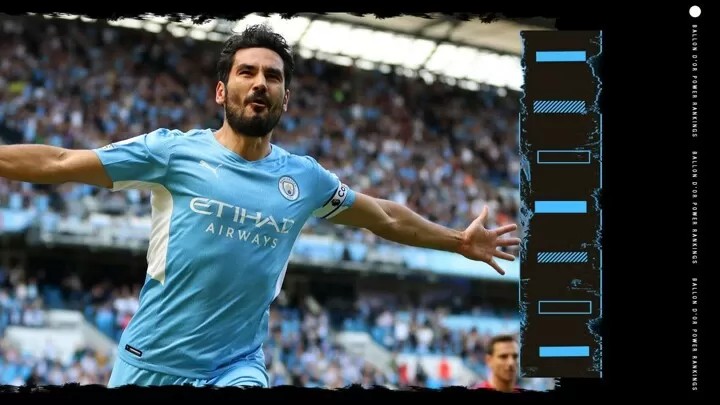 Last week: 18th
In 2021: 17 goals, six assists. Won Premier League & Carabao Cup.
Gundogan got off the mark for the new season with a header against Arsenal, and the Germany international will be hoping that was a sign of things to come after seeing his goals dry up towards the end of the 2020-21 campaign.
#17 Mason Mount (Chelsea)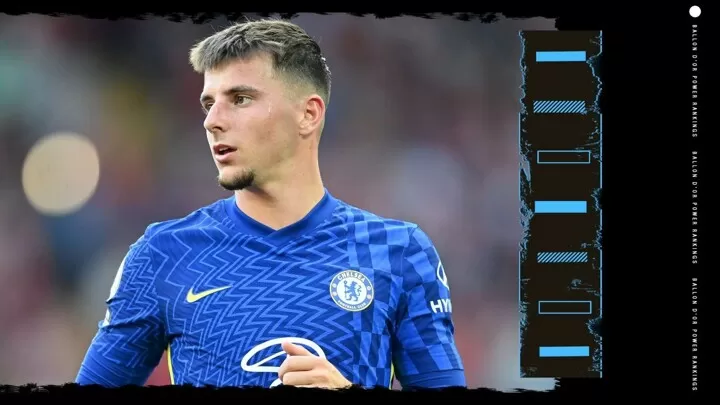 Last time: 17th
In 2021: Nine goals, five assists. Won Champions League & UEFA Super Cup.
Chelsea look well set to make a push for the Premier League title this season, and Mount is likely to play a key role in being a bridge between the Blues' midfield and attack.
#16 Neymar (Paris Saint-Germain)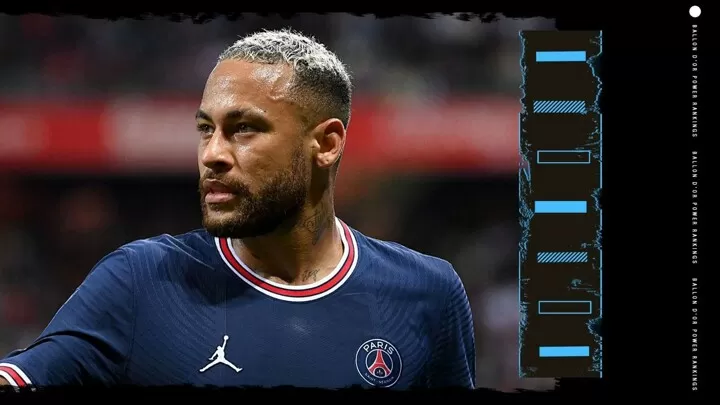 Last time: 16th
In 2021: 12 goals, 11 assists. Won Coupe de France & Trophee des Champions.
Back in 2017, Neymar left Barcelona in part so he could emerge from Lionel Messi's shadow and prove his Ballon d'Or credentials elsewhere.
That dream, however, has not become a reality, and four years on he has reunited with his close friend after the Argentine moved to PSG this summer.
So will Messi's arrival in the French capital kill Neymar's hopes of ever winning the Ballon d'Or? Only time will tell.
#15 Gianluigi Donnarumma (Paris Saint-Germain)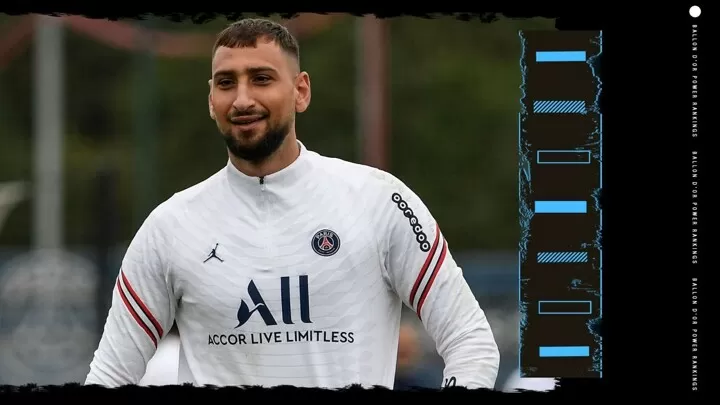 Last time: 15th
In 2021: 17 clean sheets. Won Euro 2020.
Euro 2020's Player of the Tournament is yet to make an appearance since the final at Wembley, with Donnarumma having been made to wait for his PSG debut.
It seems inevitable that the Italy international will beat out Keylor Navas for the starting berth at Parc des Princes eventually, but it remains to be seen how loyal Mauricio Pochettino will be to his current No.1.
#14 Harry Kane (Tottenham)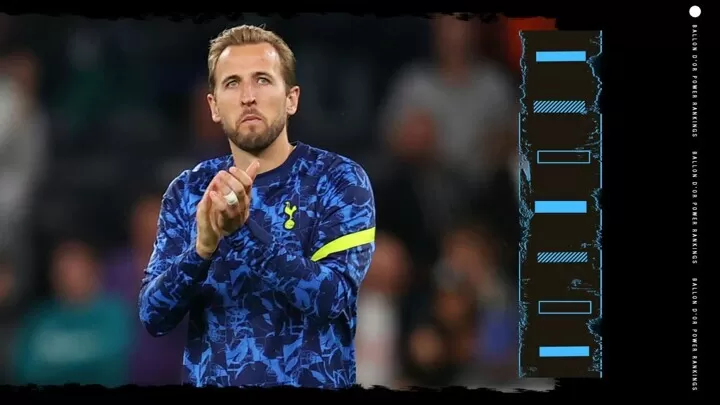 Last time: 14th
In 2021: 25 goals, five assists.
Defeat in the final of Euro 2020 and admitting defeat in his bid to join Manchester City – this has not been the summer Harry Kane envisaged back in May.
That said, Kane's goalscoring ability has never been in doubt, and expect him to truly hit the ground running for Tottenham in the coming weeks, even if his exploits go a little more under the radar without Champions League football.
#13 Ruben Dias (Manchester City)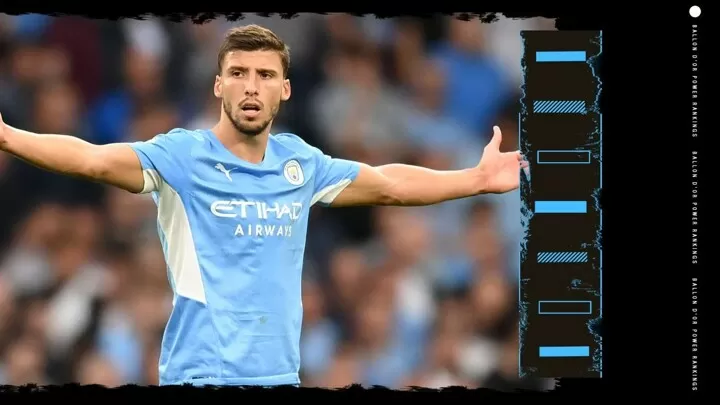 Last time: 13th
In 2021: One goal, one assist, 21 clean sheets. Won Premier League & Carabao Cup.
Dias may not have had the outstanding Euro 2020 that he would have hoped for, but normal proceedings have resumed for him at City, where Aymeric Laporte may now be becoming his favoured defensive partner.
His performances over the past 12 months have also earned him a new six-year deal at the Etihad Stadium, with the Premier League champions well aware of what a major asset they have on their hands.
#12 Raheem Sterling (Manchester City)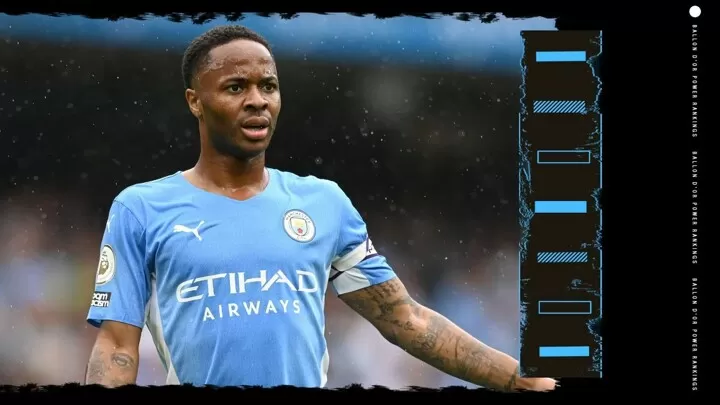 Last time: 12th
In 2021: 12 goals, seven assists. Won Premier League & Carabao Cup.
After his Euro 2020 heroics, Sterling has returned to Manchester City and found that he remains on the outside looking in when it comes to being a regular starter at the Etihad Stadium.
Though he did score against Norwich City, the England star has never been less sure of his place in Pep Guardiola's team as he is right now.
#11 Karim Benzema (Real Madrid)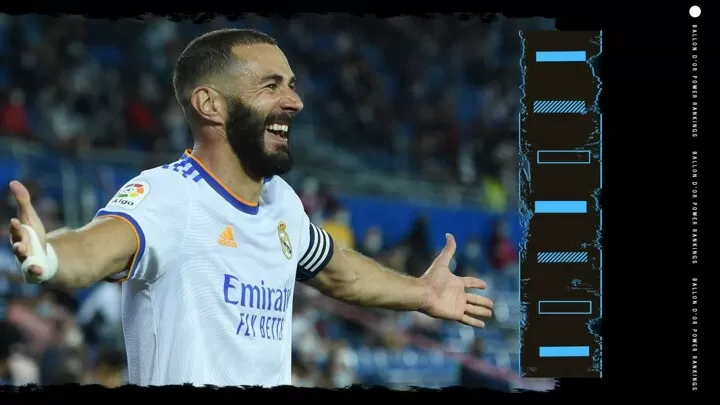 Last time: 11th
In 2021: 24 goals, eight assists.
Benzema might not be the main man at Real Madrid for too much longer if Florentino Perez gets his way in the transfer market, but for now the veteran forward continues to live up to his star billing.
The France international has two goals and three assists from Madrid's first three Liga games of the campaign as they aim to regain the title they failed to defend last season.
#10 Federico Chiesa (Juventus)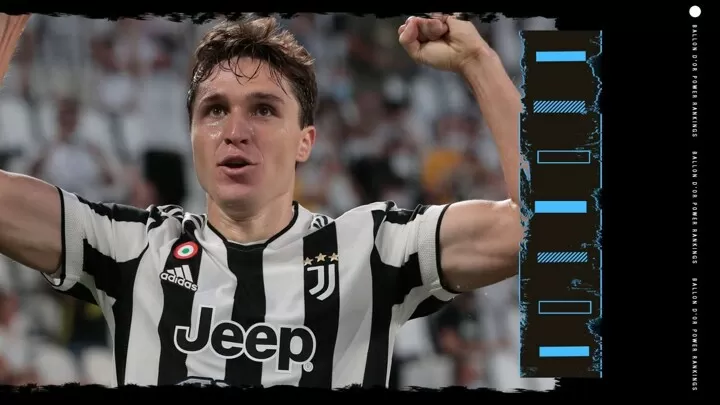 Last time: 10th
In 2021: 14 goals, five assists. Won Euro 2020, Coppa Italia & Supercoppa Italiana.
With Cristiano Ronaldo having left Juventus, the door is now open for someone new to become the attacking leader of the Bianconeri.
Chiesa's performances over the past year suggest he is up to the job, though Juve's loss to Empoli on Saturday hinted that the rebuild required at the Allianz Stadium is bigger than many people believed.
#9 Erling Haaland (Borussia Dortmund)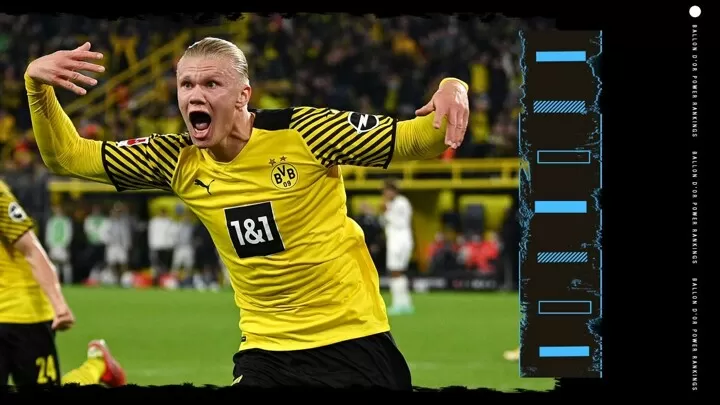 Last time: 9th
In 2021: 31 goals, 12 assists. Won DFB-Pokal.
While the majority of the world's elite players spent their summers playing major tournaments, Erling Haaland was out there, waiting, getting stronger.
The Dortmund star has returned from two months without competitive football with a bang, scoring six goals and laying on three assists in his first five games of the new campaign.
The newly-crowned Champions League Forward of the Year is showing no signs of slowing down.
#8 Cristiano Ronaldo (Manchester United)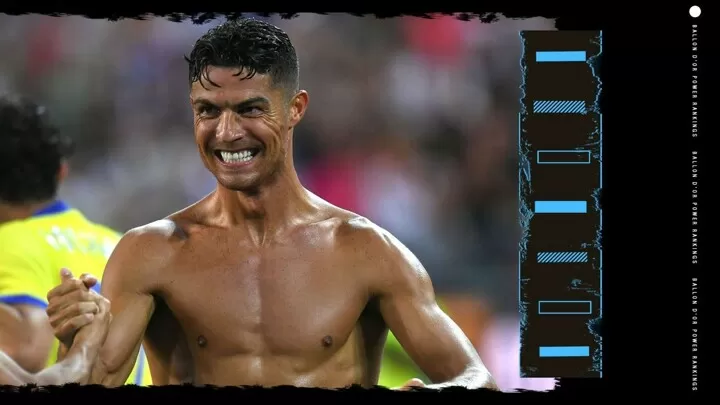 Last time: 8th
In 2021: 27 goals, four assists. Won Coppa Italia & Supercoppa Italiana.
Ronaldo is back at Manchester United, and while he is not the same player he was when he left Old Trafford back in 2009, there is no doubt that he can still have an impact on the Red Devils.
The Portugal international should also become the top men's international goalscorer of all time before the year is out, meaning his place among the Ballon d'Or's top 10 should be secure.
#7 Kevin De Bruyne (Manchester City)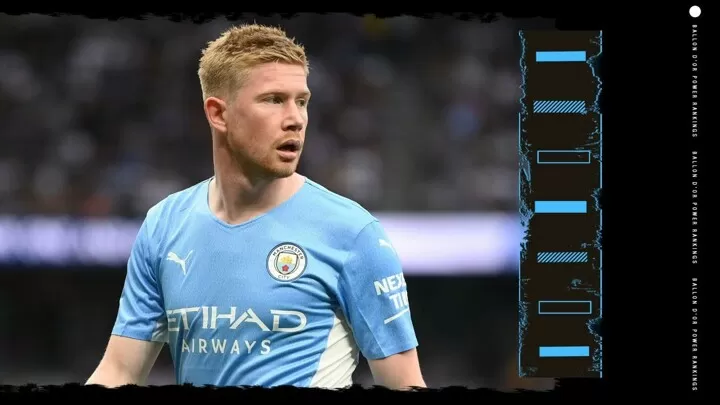 Last time: 7th
In 2021: 10 goals, 10 assists. Won Premier League & Carabao Cup.
The middle third of De Bruyne's 2021 has been dominated by injuries, with both the Champions League final and Euro 2020 ending with the Belgian playmaker facing fitness problems.
There remains no doubt that the Man City schemer is the best playmaking midfielder in the world right now, but De Bruyne will hope that this current run of bad luck does not stretch too far into the new campaign.
#6 Kylian Mbappe (Paris Saint-Germain)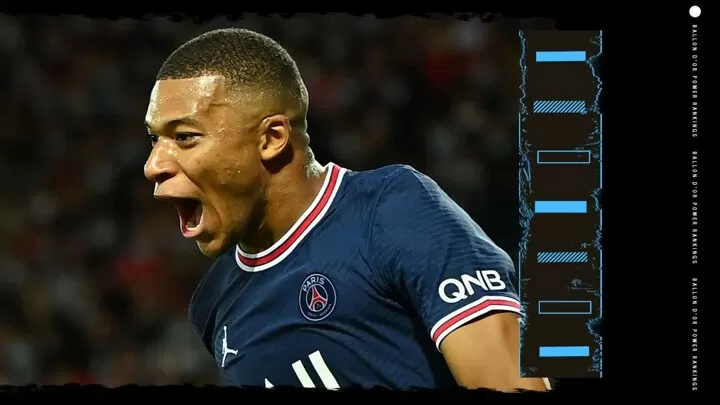 Last time: 6th
In 2021: 32 goals, nine assists. Won Coupe de France & Trophee des Champions.
Speculation over Mbappe's future looks likely to dominate the final days of the transfer window, but on the pitch he is showing no signs of feeling the pressure.
The France international has three goals and two assists in PSG's first four Ligue 1 games of the season, and though they could yet be his last for Les Parisiens, he at least would be going out on a relative high.
#5 Romelu Lukaku (Chelsea)
Last time: 5th
In 2021: 23 goals, seven assists. Won Serie A.
Lukaku's return to Chelsea looks like a match made in heaven for the Belgium international, with the Blues believing they have found the missing piece to Thomas Tuchel's jigsaw.
His goal against Arsenal on his second debut was a perfect illustration of what Lukaku is about at this stage of his career, and few would bet against him winning the Golden Boot this season.
#4 N'Golo Kante (Chelsea)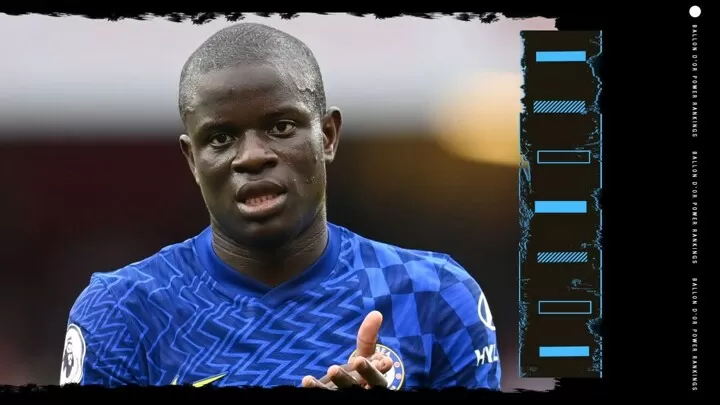 Last time: 4th
In 2021: One assist. Won Champions League & UEFA Super Cup.
After being named Man of the Match on four occasions during the knockout stages of the Champions League – including in both semi-final legs and the final – Kante was the rightful winner of the competition's Midfielder of the Year award.
Niggling injury concerns are a worry heading into the new season, but Kante has already done plenty to ensure he will remain in the Ballon d'Or conversation all the way through to December.
#3 Jorginho (Chelsea)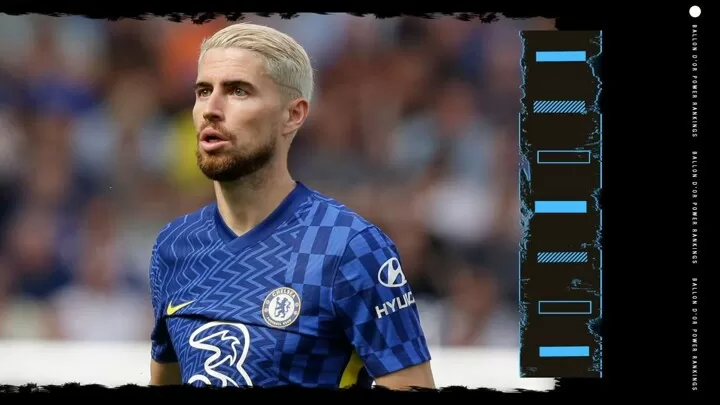 Last time: 3rd
In 2021: Five goals, two assists. Won Euro 2020, Champions League & UEFA Super Cup.
If anyone was still doubting whether Jorginho was a genuine Ballon d'Or contender before, then the Chelsea midfielder winning UEFA's Player of the Year prize is a sure sign that he will be in contention for the biggest individual prize of them all too.
As this column has explained previously, 'Modric's Law' is a real thing when it comes to end-of-year awards, and there is no one better placed to take advantage in 2021 than Jorginho.
#2 Robert Lewandowski (Bayern Munich)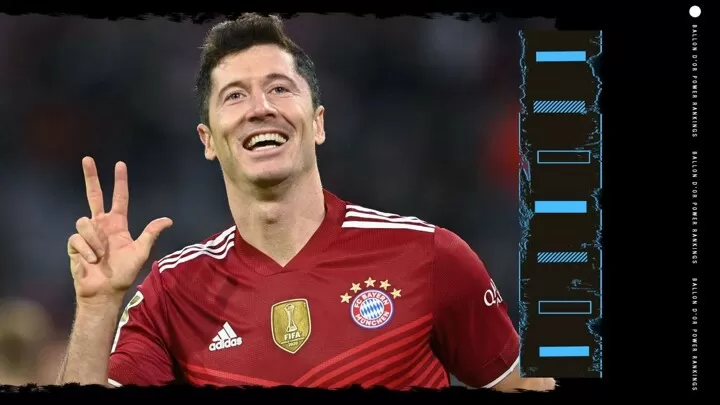 Last time: 2nd
In 2021: 41 goals, four assists. Won Bundesliga, Club World Cup & DFL-Supercup.
Lewandowski is not about to give up on claiming the prize he should have won in 2020 without a fight after making a fast start to the new season at Bayern Munich.
The Poland international has netted seven goals in four games for the Bavarians thus far, and should have brought up a half-century of goals for the year by the end of September if his form holds.
#1 Lionel Messi (Paris Saint-Germain)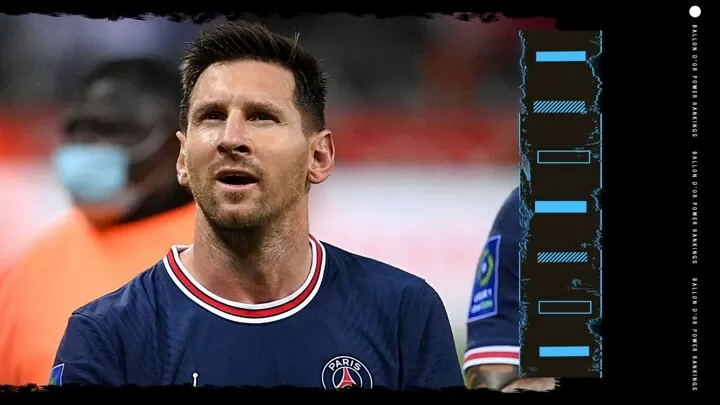 Last time: 1st
In 2021: 33 goals, 14 assists. Won Copa America & Copa del Rey.
Despite him moving clubs, the Ballon d'Or remains Messi's to lose in 2021, with his role in Argentina's Copa America triumph currently the deciding factor.
The fact that PSG have been drawn into the most intriguing Champions League group means he will remain in the spotlight through the final months of the year, while playing for the dominant side in Ligue 1 should offer him opportunity to stack up the goals and assists too.
Source: allfootball apk
Ronaldo thanks Juventus on social media, "I will always be one of you"
Ronaldo Thanks Juventus on social media, "I will always be one of you"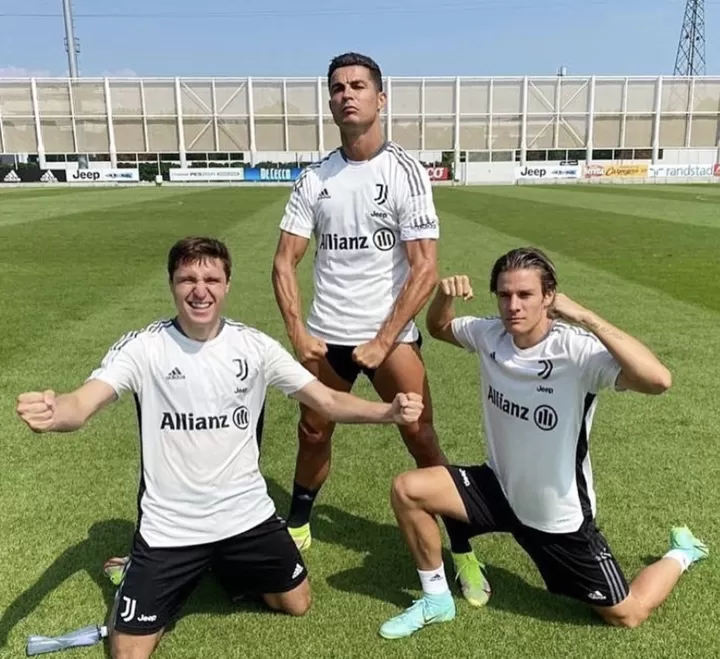 Today I depart from an amazing club, the biggest in Italy and surely one of the biggest in all of Europe. I gave my heart and soul for Juventus and I'll always love the city of Turin until my final days. The "tiffosi bianconeri" always respected me and I tried to thank that respect by fighting for them in every game, every season, every competition. In the end, we can all look back and realize that we achieved great things, not all that we wanted, but still, we wrote a pretty beautiful story together.
"Juve, storia di un grande amore Bianco che abbraccia il nero Coro che si alza davvero Juve per sempre sara…"
I will always be one of you. You are now part of my history, as I feel that I'm part of yours. Italy, Juve, Turin, tiffosi bianconeri, you'll always be in my heart.
source: allfootball apk