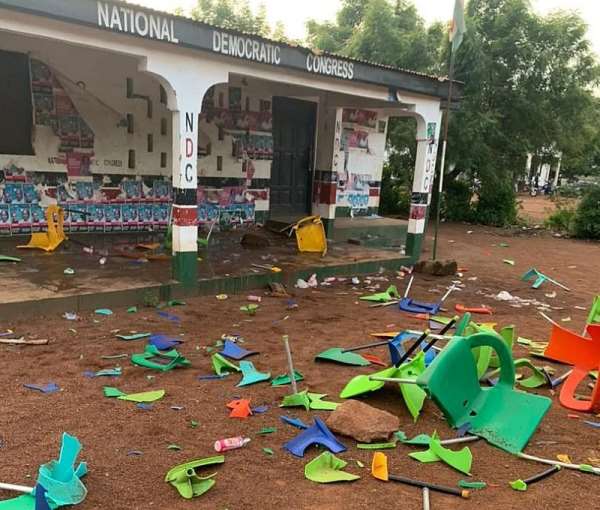 The suspension comes as punishment to alleged instigators of the riot.
According to the disciplinary committee, the suspended executive will not be able to contest any executives election at the Constituency and the Regional level within the specified periods.
On May 16, 2021, some youths who were believed to be supporters of the incumbent Salaga South MP Hajia Zuweira Ibrahimah invaded the constituency party office, causing chaos during a meeting organized by executives of the party.
Some were brutally beaten and properties such as plastic chairs were destroyed.
According to the angry youths, the Constituency Chairman, Youth Organizer, Organizer, Communication Director, and Women Organizer were said to have campaigned against Hajia Zuweira Ibrahimah (MP) during the 2020 elections.
Meanwhile, the affected persons have vowed to appeal the decision by the Regional Disciplinary Committee citing unfairly judgment.
They are also accusing the current MP of being behind the disturbance at the Salaga South Constituency.
According to the suspended executives, the MP was not a registered voter in the Salaga South constituency before she contested for primaries.
But for peace of the party, they claim the suspended chairman together with the executives allowed her to contest.
"She only became a voter in the constituency during the referendum limited registration.
"She also vowed to change the constituency album to favor her in the upcoming primaries but we shall not allow that to happen. We shall make sure the constituency album would not be tempered," they stated.
Below are the lists of affected Persons with the various sanctions levied against them:
Constituency chairman: HARUNA SALIFU CONNECTION – TWO YEARS Suspension
Constituency Organizer- MUNTALA FALALU – One and half Year Suspension
Constituency Youth Organizer: MAHAZU MAMUDU – One-year Suspension
Constituency women's Organizer: HARUNA FULERA- One-year Suspension
Constituency communication officer ABU OMEGA- One-year Suspension
source: modernghana.com